Hiii, sunny!
One of the coolest things to do this summer is, yep, taking cool pictures!
There are many inspirational ideas for photoshoots.
And in this post, I have gathered the easiest and most popular ones. Check 'em out!
Black & White
Take any picture and make it more mysterious and vintage-like adding a black & white filter.
With Flowers
There are lots of flowers in the summertime. Why not use them?
Pick some flowers and put them in your hair, pockets, or even shoes.
It will be so ~aesthetic~ heheh.
Field
Fields are amazing!
They're all in one: most have pretty flowers, nice wind that makes your hair look gorgeous, and there's no one to disturb you while taking a picture haha.
Show Your Legieeess
Such pictures are sooo cool!
Sky Background
Place your camera on the ground (or ask someone) and the sky will do its great job in giving you a cool background!
---
Shop gorgeous and inexpensive teenage clothes on Romwe now!
Golden Hour
When it's hot and sunny, usually around 4-7 pm, sun is in its most golden phase. Take this opportunity.
Make your face face the sun (wow, English).
It will give you some kind of glow.
And also, you can edit your pictures after that to give 'em even more sunset-y vibes.
Here are some nice filters:
"Sun Don't Shine"
I love this pose!
To repeat, just simply place your hand or both above your eyes while facing the sun.
At The Beach
It doesn't have to be during a vacation near the ocean or sea.
Take a nice pic near the local lake, river, or pond. But be careful near water!
"I'm free and happyyy"
Ask your friends or someone else to capture you laughing, when you're at your wildest and happiest.
Tell them also to make it kinda blurry for a nice nostalgic effect:)
Gas Station
Welp, this place is not that common among us who doesn't drive yet.
But it's a nice place to take a pic when you have a chance and you're with your friends.
Related: How to Really Glow-Up In Summer 2020
On The Ground/Road
Be careful with the roads!
Make sure the it is free and is not used often and be extra careful!
---
Get your summer feelings popping with Pura Vida jewelry! Pss… they're having 40% off, hurry up!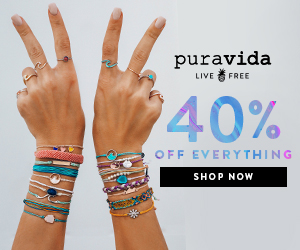 ---
Shadows and Mirrors
Capture your shadow when the sun is in the nice position.
And if you have a pretty mirror why not take a good pic?
In The Car
Another idea: a nice selfie in the car:)
OOTD
Show off your cool outfit of the day, babe!
---
---
Pretty Nature
Mother Nature is the best background honestly.
Stand or sit near some nice bushes, trees, fiels, landscapes.
The photos will be amazing!
At the Festival/ Amusement Park
If you're going this summer to a festival, of course you'll take pictures there hahah.
Make some of them unintentionally blurry to add some fun and ~memories~
---
Follow my Pinterest board for looots of inspiration!:
That's all!
Hope you have an amazing summer and life!
Check out my other summer posts:
Share or save for later:)